Free Online Games
If you're thinking of playing online games, I got you! Below are some free online games you can try. They are fun and entertaining, suitable for people of different ages. In addition, you can play them on the go on your mobile phone.
Crystal Collapse
Those who are searching for feel-good games should definitely look at Crystal Collapse. It's from Arkadium, which is also the developer of the other games on this list.
The goal of the game is simple — match crystals in enchanting patterns to collapse them. As a result, matching at least five crystals will trigger various rewards. Consequently, they will help you advance to the next level. And if you do well, you'll see your name on the leaderboard.
Family Feud
Have you ever seen Family Feud on TV? Now, you can also play on mobile for free! Like in the show, the survey responses of real people are what the answers are based on.
Two families will compete against each other to play a trivia game. Further, the game has three rounds. Whoever wins the last round gets a chance to play the Fast Money Round, where you can earn bonus points.
Arkadium's Bubble Shooter
Your goal in this online game is to pop all the bubbles before your time runs out. Hence, speed is crucial for winning. Meanwhile, you'll also need to strategize, making sure to align the bubbles with the right colors.
Arkadium Bubble Shooter has left and right buttons for moving the bubble before shooting it. You can use a mouse for aiming when playing on a computer. Alternatively, you can tap and hold if you're playing on your phone.
Free 8-Ball Pool Game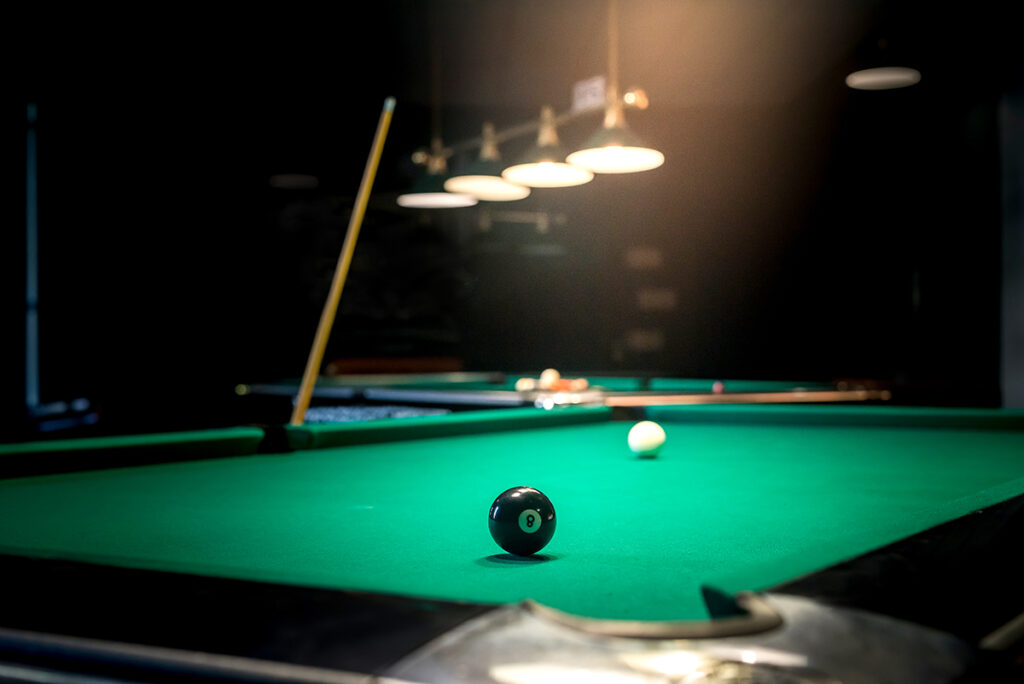 Whether on your bed, car, or anywhere else, you can play pool! Such is possible through this free online game from Arkadium. If you've ever played the actual pool before, the rules are almost the same.
Players can choose from three levels before starting a game — easy, medium, or hard. Use your mouse or hover over the screen to move the cue. Start with balls 1 to 7, and lastly, shoot ball 8 exactly in the hole where you aim.
Online Casino
Unlike the others on this list, it isn't a specific game. Instead, it's a general category of several online casino games. Aside from being free, you also don't need to download any app. You can play straight on your favorite browser.
If you're into slots, Hollywood Dreams, and Press Your Luck are some free games you can enjoy from Arkadium. Alternatively, those who are into cards will have options as well, including solitaire and poker.
Arkadium Word Wipe Game
Let your mind work while playing a fun game for free. Word Wipe is a classic spelling game. It's one of the most popular in Arkadium's collection of online games.
To play Word Wipe, you'll move the tiles with individual letters to spell a word. You're working against the clock, so speed must be a priority.
Mahjong Solitaire
If you love both mahjong and solitaire, this game is for you! It combines the best of both worlds.
Your goal in this game is to clear the tiles. To do so, you must match two of the free tiles or those that do not have a cover. If you're finding it difficult to complete the game, press the Hint button, which will give you a clue on what to do next.
Block Champ
Do you know Tetris? Well, Block Champ will remind you of the latter. Nonetheless, you'll be happy to find some twists which differentiate it from other 10×10 games.
Use blocks to fill and clear rows and columns. However, you must keep an eye on frozen tiles. They require clearing two times before they disappear. You'll also have lightning tiles, which can help you clear blocks faster.